Pentax K7
Pentax'ın yeni makinesi çıkmış. Bana giriş sınıfına yönelik bir hamle gibi geldi. Özellikle body görüntüsü ve büyüklüğü, video özelliğiyle direk Nikon ve Canon'un benzer makinelerini hedef almış görünüyor.


Pentax K7 Çıktı

#ulyses' tarafından 19.05.2009 02:02:31 tarihinde düzenlendi.

Tarih: 19 Mayıs 2009, 02:01 - İp: 88.***.**2.228
Yanlış, makine henüz çıkmadı (linktehi bilgiler, ricehigh adlı, pentax camiası tarafından pek de sevilmeyen bir şahısa ait). Tanıtım 21 Mayıs'ta bekleniyor. Ama bilgiler doğru, epey süredir nette dolaşıyor. Hatta burada da bir konu altında tartışılmıştı yeni makine.
Tarih: 19 Mayıs 2009, 02:30 - İp: 88.***.**2.8
pentax k7d fotolarını buldum.
http://photorumors.com/2009/05/18/pentax-k-7-final-words-and-pictures/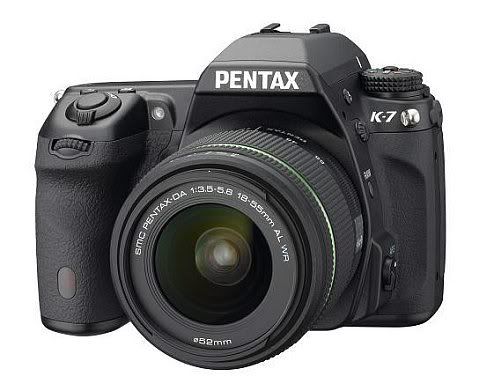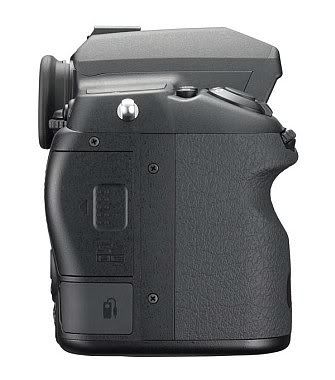 Camera Name: Pentax K-7
Body Material: Magnesium Alloy Outer Shell on Stainless Steel Chassis
Body Reliability: 77 Places Sealed, Cold-Resistant: Can be Operated under Temperature at -10°C
Sensor: New Version of Samsung 14.6MP CMOS APS-C Imager in 23.4 x 15.6mm (Aspect Ratio 3:2), 4 Data Channels Readout
Dust Removal: New DRII System, Low-Pass/Anti-Aliasing Optical Filter Placed in Front of Sensor is Capable to beMoved in High Ultrasonic Frequency; Featuring also the Dust Alert System to the User
ISO Speeds: ISO 100-3200, 6400 Available on Expansion (to be Set via Custom Function)
Image Processing: Newly Developed PRIME (Pentax Real IMage Engine) II Image Processor for High Performance and High Speed Still Image and Movie Data Processing; Better-Quality Images with RicherGradation and More Accurate Color Rendition
Mount: Pentax KAF2 (Crippled K-mount, Support Both Body Driven "Screw-Type" AF KAF and SDM KAF2/KAF3 Lenses)
Viewfinder: Optical Type, Glass Prism, 100% Image Coverage, 0.92X Magnification
Focusing Screen: New Natural-Bright-Matte III Focusing Screen, Improved Manual Focusing Accuracy
Shutter: 1/8000th second Top Speed, X-Sync=1/180s, 100,000 Shutter Actuations Durability
Continuous Shooting Modes: Continuous (Hi):-
JPEG: 5.2 FPS: Until 40 Frames;
RAW(PEF): Until 15 Frames;
RAW(DNG): Until 14 Frames

Continuous (Lo):-
JPEG: 3.3 FPS: No Limitation, until Card Full;
RAW(PEF/DNG): Until 17 Frames
Live View: Yes: Real-time, On-display image Confirmation, Activated by One-touch Dedicated "LV" button at the Thumb Position; Continuous Shooting Possible Under the LV Mode (Without Breaking the LV Mode and Exposure will be Adjusted Automatically and Continuously Via Automatic Diaphragm)
Live View AF Options: Contrast Detection AF with Face Recognition Option
Other Preview Options: Optical Preview; Digital Preview
Movie/Video Recording: Movie/Video with Mono-Audio Recording (with Built-in Microphone), Supported Video Modes: 1280 x 720 Pixels (16:9 Standard High Definition), 640 x 416 (3:1.95), 1536 x 1024 (3:2), All Modes at 30 Frames Per Seconds
Top Monochrome Status LCD: Yes, with Electro-Luminescence (EL) Backlight
Rear Colour LCD Monitor: 3.0″, 640 x 480 Standard VGA Resolution, Approximately 920,000 Colour Dots, 170° Degrees of View both Vertically and Horizontally
e-Wheels Control: Front and Rear Wheels
Green Button: Yes, Directly Under the Rear Wheel
Exposure Modes: Green Mode, Hyper Program (P), Sensitivity Priority (Sv), Shutter Priority (Tv), Aperture Priority (Av), Shutter-Aperture Priority (TAv), Hyper Manual (M), Bulb (B), X-Sync (X), User and Movie
Metering System: New 77-Segment Multi-Pattern Metering System, which Divides the Frame Equally in 7 x 11 Segments, Vertically and Horizontally Respectively; More Advanced Algorithm for Higher Exposure Accuracy
Metering Modes: Evaluative, Centre-Weighted Average, Spot;
Selected via Dedicated Metering Mode Level at Camera Top
AF System: New SAFOX VIII+ AF System, Layout Same As SAFOX VIII (11-Point, 9 Crossed);Improved in Speed and Accuracy
Focusing Modes: AF-S, AF-C, MF; Via Dedicated Focusing Mode Selector Level
Dedicated AF Button: Yes
Dedicated AF Point Selector: Yes: Central, Auto and User Select
Built-in Flash (RTF): Yes, Manual Pop-Up
Built-in AF Assist Light: Yes
Orientation Sensor: Yes
Shake Reduction: Pentax Original SR System which is Capable of Compensation Shakes in Up/Down, Left/Right and Rotational (Clockwise/Counter-clockwise) Directions
SR Activation: Preset by Camera in Different Modes or Manually Activated/Deactivated by the User via System Menu
Image Tone Modes: Seven Modes: Bright, Natural, Portrait, Landscape, Vibrant, Monochrome, Muted (for Delicate, Subdued Colours); Actual Effect Previewable under LV or Digital Preview Mode
Image Parameters: Saturation, Hue, Contrast, Sharpness, Filter Effect, Toning, Key and ContrastHighlight/Shadow; Actual Effect Previewable under LV or Digital Preview Mode
White Balance Presets: Auto, Daylight, Shade, Cloudy, Fluorescent Light, Tungsten Light, Flash, CTE (Emphasizing the Colours of Sunset Scenes) and Incandescent-Tinted Fluorescent Light
Manual White Balance: Yes: Manual Measurement, Presets and Fine-Tuning (for Green Vs Magenta and Blue Vs Amber)
Supported Colour Spaces: sRGB (Default) and AdobeRGB
Other Features: HDR (High Dynamic Range) Mode (One Composite Image from 3 Exposure Bracketed Images), Dynamic Range Expansion, Auto Distortion and CA Corrections, Multiple Exposures, Copyright Credits Attachment, Dedicated RAW Button, 16 Digital Filters
Controls Around Shutter Release: Optical/Digital Preview; Two Separate Buttons for ISO Speed Selection and +/- EV Compensation / Top LCD Panel Backlight/Illumination
Direct Control System for Basic Functions: With the Four Ways / "OK" Buttons for WB, Flash, Drive and Image Tone Mode / AF Point Selection Activation
Standard Digital Controls: Play/Delete (at Upper Left), Info/Menu (at Lower Right)
Dedicated One-Touch RAW Button: Yes
PC Sync Socket: Yes
IR Remote Control: Yes, Front and Rear Receivers
I/O Ports: Left: DC In, PC/AV, HDMI Out, Mic In; Right: Cable Switch Connector
Battery: New Type High Capacity Rechargeable Type D-LI90, 7.4V/1900mAh (Nominal), Support up to 980 Shots Without Flash
Storage Media: SD and SDHC Cards
Dimensions: 130.5(W) x 96.5(H) x 72.5(D) mm (5.1 x 3.8 x 2.9 inches)
Weight: 670g (22.9 oz.), Body Only (Without Battery and SD Card)
750g (26.5 oz.), Loaded and Ready (With Battery and SD Card)
Software: Pentax Photo Laboratory (with SILKYPIX RAW-data processing engine developed by Ichikawa Soft Laboratory), Pentax Photo Browser and Two Other Utilities
Kit Lens: DA 18-55/3.5-5.6 AL WR (Water/eather Resistant)
Optional Accessory: Vertical Battery Grip D-BG4, Weather-Sealed and Cold-Resistant, Support Either Another D-LI90 or Six AA Batteries, Provision of Extra Shutter-Release Button, Preview Lever, e-Dials, AE-Lock, Green Button and AF Button
Tarih: 20 Mayıs 2009, 12:41 - İp: 85.***.**4.128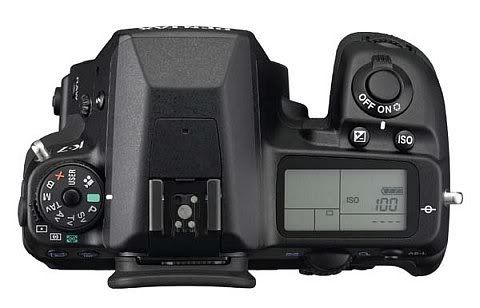 Tarih: 20 Mayıs 2009, 12:43 - İp: 85.***.**4.128
Konu sahibi de aynı fotoları koymuştu ancak daha sonra editlemiş.

İspanya Pentax sitesinde açıklama için sayaç var şu an itibariyle 3 saat 6 dakika sonra resmi açıklama yapılacak. Ama bu bilgiler doğru tabi.

Hatta menü fotoğrafları bile var artık


ya da elde nasıl durduğuna dair bir foto
Tarih: 20 Mayıs 2009, 12:56 - İp: 78.***.**5.148
Bakalım fiyat naıl olacak.


Tarih: 20 Mayıs 2009, 13:22 - İp: 85.***.**4.128
Evet en önemli konu bu bence de



1500-1700 USD arası fiyat tahmin ediliyor genellikle.
Tarih: 20 Mayıs 2009, 13:54 - İp: 78.***.**5.148
1500-1700 dolarmı


yuh!!!
Tarih: 20 Mayıs 2009, 15:37 - İp: 78.***.**8.210
Bhphoto sitesine koymuş bile.


1200 dolar.
çok güzel bir fiyat.
D80 i bile halen kaça satıyorlar.

LİNK
Tarih: 20 Mayıs 2009, 16:04 - İp: 85.***.**9.67
B&H photo da 1200 USD olarak listelenmiş, galiba sadece body fiyatı. Bu durumda kit lensle beraber 1300-1400 USD civarı olacak. Bence fiyat bu makineye göre süper. Üstelik bu başlangıç fiyatı.



BH photo Pentax K7
Tarih: 20 Mayıs 2009, 16:05 - İp: 78.***.**5.148
Tayfun ben daha önce yazmışım
Tarih: 20 Mayıs 2009, 16:05 - İp: 85.***.**9.67