Rötuş Plugin Seti Kodak Digital Gem
Kodak Digital Professional Plugins

DIGITAL GEM Pro Plug-In
DIGITAL GEM Airbrush Pro Plug-In
DIGITAL ROC Pro Plug-In
DIGITAL SHO Pro Plug-In
DIGITAL GEM Plug-In

The DIGITAL GEM Plug-Ins, for ADOBE PHOTOSHOP and compatible programs, automatically reduces and manages noise and grain in digital images without causing excessive softening or blurring. The professional version adds a powerful new grain/noise reducing algorithm, a "Noise Preview" screen, 16-bit support, and more. The DIGITAL GEM Airbrush Professional Plug-In, for ADOBE PHOTOSHOP and compatible programs, automatically smoothes skin and other surfaces of digital images without softening or blurring important details like eyelashes, eyebrows, or hair. Supports 16-bit color images.[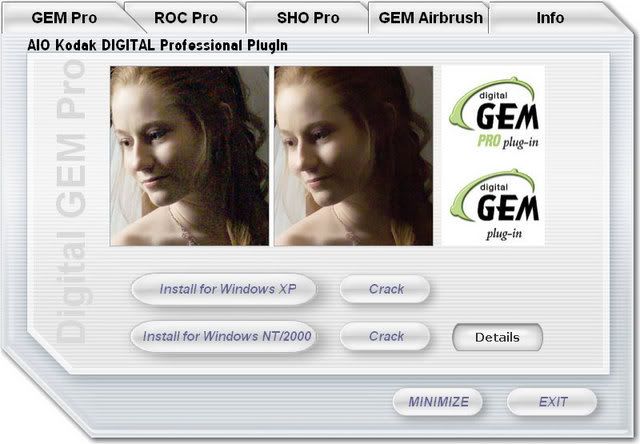 Image noise can be caused by a variety of factors— digital camera/scanner CCD/sensor noise, high-speed film grain (from scans), adverse lighting conditions, JPEG compression, and image enlargement. With this plug-in, you can isolate and manage noise/grain in highlight and shadow areas without sacrificing image detail or excessive softening. Create portrait studio quality soft-focus effects, and image sharpening, that surpasses most typical "unsharp mask" filters. Reduce or remove JPEG compression artifacts, as well as line screening patterns from flatbed scans.
The standard version works on 8-bit images. The professional version adds advanced features, such as additional algorithms, and 16-bit capability to control noise and grain.
KODAK DIGITAL GEM AIRBRUSH PROFESSIONAL PLUG-IN
Smoothes skin surfaces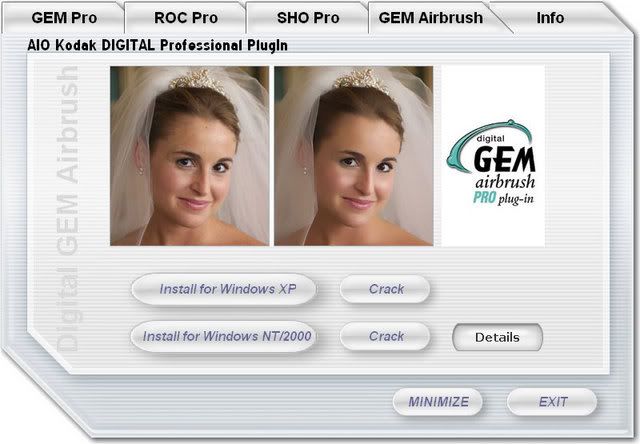 For a quick and powerful way of smoothing skin without blurring or affecting facial-feature detail. Achieve meticulous airbrush effects, automatically, without tedious, time-consuming masking and manual softening. Equalize unflattering facial highlights and shadows—smooth surfaces by reducing harsh shadows and highlights, minimize skin imperfections and other surfaces, while fully preserving details like hair, eyelashes, eyebrows, and the true character of a subject's face. Control image detail at three levels: fine, medium, and coarse. It works on 8- and 16-bit images.
KODAK DIGITAL SHO PROFESSIONAL PLUG-IN
Optimizes contrast and exposure
Both DIGITAL SHO Plug-Ins optimize contrast and exposure to reveal details hidden in highlights and shadows. They correct exposure problems in images with backlit subjects and uneven flash illumination as well as partial shade. Control can be automatic or custom. Both versions work on 8-bit color images.
The professional plug-in works on both shadow detail lighting and highlight darkening—giving you separate control of the amount of detail to reveal in each area, as well as color saturation. The standard version works only on shadow or dark image areas.
KODAK DIGITAL ROC PROFESSIONAL PLUG-IN
Restores, corrects, and balances color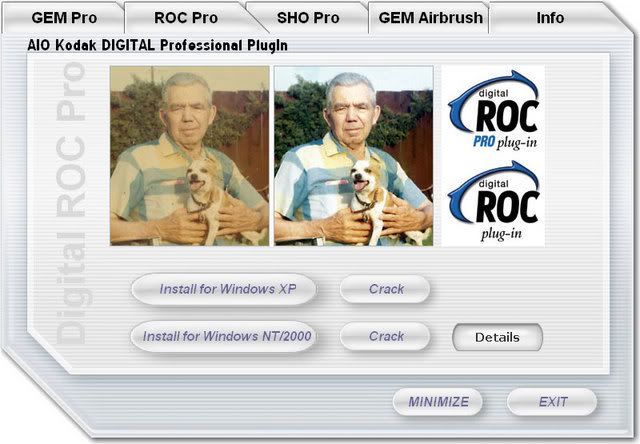 utomatically correct, restore, and balance image color brightness and contrast. Proprietary algorithms analyze the color gradients and determine the optimum tonal curve for each color channel to remove the colorcast, tint, and fading. You can correct for the effects of tungsten and fluorescent lighting. The plug-ins also restore pleasing density and contrast to black-and- white images. And they optimize image white balance; and offer automatic or custom control. Both versions support the use of 8- and 16-bit color images.
With the professional version you get full control of image brightness and image contrast (black-and-white clipping) for better color and white-balance corrections.
Preview:
[url=http://www.teknobilgi.net/pano/index.php?topic=21939.0]
Tarih: 28 Ağustos 2007, 20:35 - İp: 88.***.**9.71
Hocam plug-in'i kurduğumuzda c:/Program Files/ Kodak klasörüne kuruluyor. Ve başlat menüsünden kısayola ulaşılamıyor. Photoshop/Plug-ins klasöründe de herhangi bir dosyası bulunmuyor. Kurulumunu da tarif edebilirsen seviniriz.
Tarih: 2 Eylül 2007, 00:29 - İp: 85.***.**1.77
paylaşım için teşekkürler linki tetrar yayınlarmısınız emeye sağlık
Tarih: 30 Ekim 2010, 17:09 - İp: 212.***.**7.37
bi ara kullanmıştım icinde crakları ar yanılmıyosam onları plugin filter icine atyıyon ve filter menüsüne ekliyon
Tarih: 30 Ekim 2010, 18:17 - İp: 78.***.**2.218
nerden indiriyoruzz

Tarih: 1 Kasım 2010, 02:13 - İp: 88.***.**7.107
hcam link yk nerden indirecegiz. link atarsanız sevinirim. hayırlı günler
Tarih: 1 Kasım 2011, 15:39 - İp: 46.***.**1.6
tşk.
Tarih: 20 Mayıs 2014, 11:33 - İp: 78.***.**5.205
link yok bi göz atın moderatör yok mu bu sitede..
Tarih: 20 Mayıs 2014, 11:34 - İp: 78.***.**5.205